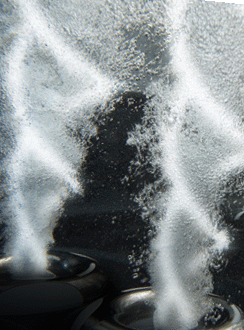 Patented Helix Jets – Spa Features
Artesian Spas® come fitted with Helix Jets – which offer the most complete, pulsating, jet water massage of any spa on the market. As their name suggests, these revolutionary, double spiral, three dimensional, water jets are based on the ancient concept of the helix. Helix jets spin in a spiral as the water pulsates out so that it both pummels and massages simultaneously – offering a doubly effective hydrotherapy relaxation experience. Come with your family and try out one of our Artesian Spas® and see for yourself what a remarkable improvement the Helix Jets make to your Hot Tub Spa massage. Each Artesian Spas®Hot Tub includes 4-5 different sized Helix Jets to offer an all-over, complete body massage experience. Each size and group of jets targets a specific body area. The biggest two ProHelix jets which direct the largest volume of water are aimed to massage the largest body muscles. Groups of mid-sized TheraHelix jets are placed strategically to massage smaller muscles such as the triceps, biceps, deltoids, hamstrings and calves.The smaller AccuHelix jets are designed and placed to direct hydrotherapy massage at the entire back region.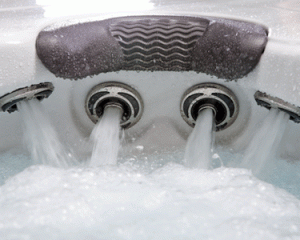 Neck Jets – An Artesian Spas® – Spa Features
Exclusive Our innovative Artesian Spa jets can give you the best shoulder and neck massage you have ever experienced. Within minutes you will feel your stress melting away as the four powerful water jets deep massage your tight muscles and relieve your neck and shoulder pain. Thirty soothing minutes with Artesian Spa neck jets and you'll feel relaxed and soothed and ready to take on the world anew!(Neck Jets are only available on selected spas)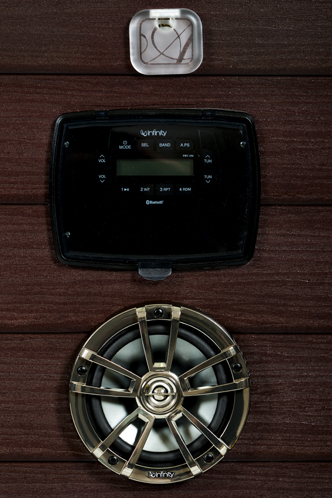 Artesian Sound Systems – Spa Features
What better way to relax than immersed in your own hot tub, eyes closed, with your own style of music playing in the background? An Artesian Spa Harman Kardon Infinity Sound Stereo system will complete your home spa luxury experience and offers top quality sounds for MP3, CDs or even just for radio if you prefer. The system comes with four speakers and a sub-woofer too, and be controlled from the LCD panel from inside the spa. And if you want to play music or listen to the radio while you are gardening or sweeping the yard, you can do that too. Install a couple of pairs of our patio speakers and enjoy your music whenever you are outside, even with the spa cover on.
LED Lighting
If you want to light up your Artesian Spa experience why not add as many or as few LED lights as you choose with these lovely spa features. Hot tub lights can create a colourful, mood enhancing atmosphere to go with your night time experience. Choose between a single colour or a light show extravaganza of multiple colours that fade gently into one another whilst you lie back and enjoy your hydrotherapy massage. DynaBrite™ Deluxe 4 small lights, 1 large light, cabinet lighting, light up all water features, top lighting for the air controls and diverter valves DynaBrite™ 7 small lights, 1 large light, cabinet lighting, light up all water features. DynaPoint™ 4 small lights, 1 large light, cabinet lighting, light up one water feature. DynaStar™ 4 small lights, 1 large light. 10 Multicolor 1 large light with 10 different colored LED lights.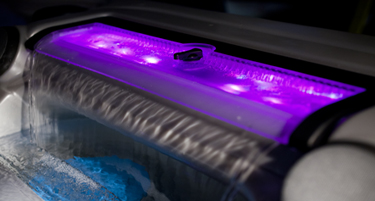 Water Spa Features Cascading Waterfall
Sink even deeper into the relaxation of your hydrotherapy massage as you listen to the soothing sound of our cascading waterfall feature. This is available on most of the hot tubs in our Artesian Spa range and can be customized to your tastes. Adjust the water to trickle gently over the 20-inch high lip in the filter area, or increase the volume of flow so that the sound of vigorously tumbling water softens background noise. At night time, turn on your optional LED lights to illuminate the cascading water flow and add even more "curtain of light" mood enhancing atmosphere .Pillowfall
Every Platinum Elite and Platinum spa comes equipped as standard with a soothing pillow fall water flow feature. The gently sound of water trickling over the hot tub pillow adds a tranquil auditory and visual relaxation focus. Close your eyes and enjoy the calming sound, or sit beneath the flow and enjoy the gently massage as it pours over your neck, shoulders and back. At night, turn on your optional white or colored pillow and spa lighting systems to infuse your hydrotherapy experience with even more soothing, mood-enhancing atmospheric effects.AquaSerene™
Artesian Spa's AquaSerene™ double fountain feature comes as standard on our Platinum Elite hot tubs. The two AquaSerene™ fountains pop-up to add a gentle, soothing auditory and visual focus while you relax into your hydrotherapy massage. You can even leave the 24-hour pump on and enjoy the sight and sound of your fountains while you are elsewhere in your garden. Or you can sit underneath them and feel the warm water play over your neck, shoulders and back andlightly pummel away any tension spots. At night, turn on your optional white or coloured LED lighting system for even more calming atmosphere. **Not available on Island Spas.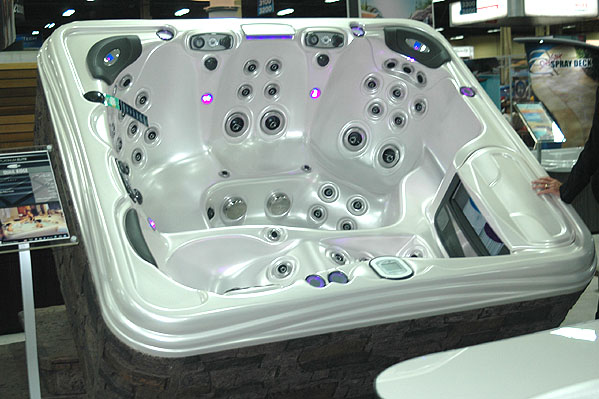 Ergonomic Design
Artesian Spa® hot tubs are not designed on the computer because we don't think a two dimensional image can truly create the type of all over body relaxation experience that we want to offer. Our spas are designed in three real dimensions, using sand blocks, chisels, putty knives and files. Only by actually sitting in our designs can we know if they offer the superior sense of comfort we want to achieve. The organic, flowing form of every Artesian spa is a direct result of this hand-crafted process. Truly a perfect blend between revolutionary and innovative engineering and good old fashioned artistic design. Every lounging seat is sculpted to perfectly contour the human body and offer optimal support to distribute weight evenly and help you maintain good posture, and still be accessible to our Helix water jets. The ergonomic bench seats can swivel so that you can have the hydrotherapy jets massage your back, arms or sides. Truly no other spa on the market today can compete with us in comfort, design and engineering.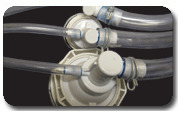 Superior Plumbing & Construction
Creating each and every Artesian Spa® is an exercise of both love and good craftsmanship. We start with the inner frame which is made from pressure treated wood over a complete ABS base. Then on top we place one of our elegant and long lasting cabinets. The space between the cabinet and the frame is filled with expandable insulation foam which both strengthens the spa and more importantly helps the heated water maintain its temperature. It also deadens the sound of the motor and prevents any sort of unnecessary vibration from damaging the plumbing materials. Last of all comes your hand-sculpted, long-lasting acrylic shell, in the colour of your choice, which is backed by our Diamondbond lifetime backing. Inside the spa, our rotatable Helix jets swivel on bearings rather than plastic fittings both for durability and to make the direction of the water flow easy to adjust, and our spa pillows are made out of closed-cell, dyed-through foam in order to prevent discoloration, water absorption and cracking. All in all, Artesian Spas are built to last – and they do!
Plumbing
In order to prevent leaks and ensure that the water flow always maintains its maximum rate and pressure, we use non-creasing, non-folding, top quality 3″ plastic tubing which is clasped and glued on to special fasteners so that it doesn't vibrate loose during operation or in transit. In addition, again for optimum water flow and pressure, all tubing is engineered to be as straight as possible with no ninety degree bends whatsoever. This means that the water meets very little resistance and emerges from the jets at the maximum possible velocity.
Pressure treated wooden frame
Our hot tub, heavy duty, wooden frames are all constructed from pressure-treated wood which has been protected by forcing preservatives into the grain under great pressure so that all the wood is penetrated. This makes it almost 100% resistant to fungi, termites and other natural pests that normally attack and weaken wooden structures. We know from experience that our wooden frames can withstand the worst of extreme weather conditions and are very resistant to insect and fungus invasions.
ABS Base
Unlike many other makes of hot tub and spas, we install a strong ABS base to seal the bottom of every Artesian Spa so that it is safe from rodent attack and cannot rot, no matter how damp or wet the ground gets. 
Acrylic Inner Shell 
Every Artesian Spas® hot tub is finished with a hand sculpted, long-lasting acrylic shell which is impregnated with EPA-registered, Microban anti-microbial protection which inhibits the growth of stain and odor-causing bacteria. This means that, although you still need to undertake routine cleaning maintenance for hygiene, our hand-cast acrylic shells are safer from bacteria, fungus and other micro-organisms that could otherwise reproduce more rapidly.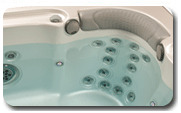 Easy flow overflow
Artesian Spas® Island Spas have a specially designed, second splash 2 inch overflow built into the rim so that no matter how many people join you in your spa, the water never spills over the edge on to your deck or patio. This innovative "spa within a spa" feature means that you don't need to drain the spa before use, even to accommodate more hot tub users. Nor do you have to refill it afterwards. Artesian Spas® – our engineers think of everything so all you have to do is sit back and enjoy!